This world is being trendy, and with the new norm, no one wants to be left behind. Headset manufacturers are slowly shifting from the production of wired headsets to Bluetooth headsets. A headset is typically made with a microphone attached to it, either a single or double earpiece. Headsets have been used for a very long time and are still dependable in the audio world to date. Now here are some comparisons for the Bluetooth headset and wired headsets.
Chapter 1: Comparison of Bluetooth headset and wired headset.
Chapter 2: Advantages of Bluetooth headset.
Chapter 3: Disadvantages of wireless headsets.
Chapter 4: Recommended Bluetooth Headset.
Chapter 5: Advantages of wired headsets.
Chapter 6: Disadvantages of wired headsets.
Chapter 7: Recommended wired Headset.
Chapter 8: Considerations for choosing a wired headset and a wireless headset.
Chapter 1: Comparison of Bluetooth headset and wired headset
Bluetooth headset has no external microphones while the wired headset has a microphone which is also used for communication purposes such as radio and telephone.
In Bluetooth headset connectivity to another device depends on the Bluetooth while in wired headset connectivity is through the wire with a jack mostly of size 3.5 mm, Type-C, and lightning.
Bluetooth headset has got a battery with long life which is chargeable to help power the headset while wired headset has no battery.
Bluetooth headset uses the signal to transmit sound while wired headset uses wires for transmission.
Bluetooth headset is simple with a variety of features such as sound cancellation while wired headset has few features.
Bluetooth headset is costly compared to the wired headset which is relatively cheap.
Chapter 2: Advantages of Bluetooth headset
Freedom– Without wires, you can walk around 1 meter around the house and can be able to pick something from anywhere say the kitchen without interfering with your podcast or music, helps the joggers run for long distances as they listen to their favorite music also ensures that gamers do not play close to the TV.
High quality- When it comes to quality, it varies with the variation of cost and the kind of budget that favors the pocket and how you can purchase the product.
Portability- It is easy to carry the Bluetooth headset anywhere as it is lightweight and can be adjusted into your luggage in case you are traveling or going for hikes.
Compatibility- Attributes like their audio, range, and cost should be checked to make sure that their quality is good for them to be at their best when listening to music and audios.
Safe to use– They are safe to use as compared to Wi-Fi but have a lower frequency. When you compare Bluetooth headsets to smart cell phones, they emit frequency waves thousands of times lesser.
Noise filtering or cancellation- Some of the wireless headsets can filter the sound of their surrounding which makes them have this unique feature. This hence makes the user more relaxed and at ease when listening to the podcast without distractions from the environment.
Chapter 3: Disadvantages of wireless headsets
More expensive than the wired headsets- The price comes with the features alongside the headsets. This means they have advanced technology and are much more new.
Battery usage- The batteries need to be powered on when they have died after using them for some time. Battery life is the most important factor when choosing a headset especially when you are on the go. There are four main types of battery life to look at namely; milli-ampere hours (maH), charge time, talk time, and standby time.
Non-instant connection- You have to turn on Bluetooth on your device (phone) and also input the same on the headset. Obstructions like floors, walls, and appliances may have an impact on the range. Look for a headset with a longer range if you are planning to move to a different room from your device while using the headset.
Audio issues – They have a less direct connection which means that glitches are possible due to a lack of wires. Depending on the environment you are in, distance from your device may encounter impedance that generally could influence sound quality.
Radiation is emitted by Bluetooth headsets- Research has said that radiation produced by the microwave is equal to the one produced by the Bluetooth headset. The brain gets damaged gradually as you put the headsets close to it.
Chapter 4: Recommended Product for Bluetooth Headset
If you like every audiophile, you value the sound quality and enough comfort to listen through hours of music or podcasts, over-ear headphones are your plug. True, earbuds may seem like a more convenient option, but that's before you give the Sonun BL15 Bluetooth headphones a try.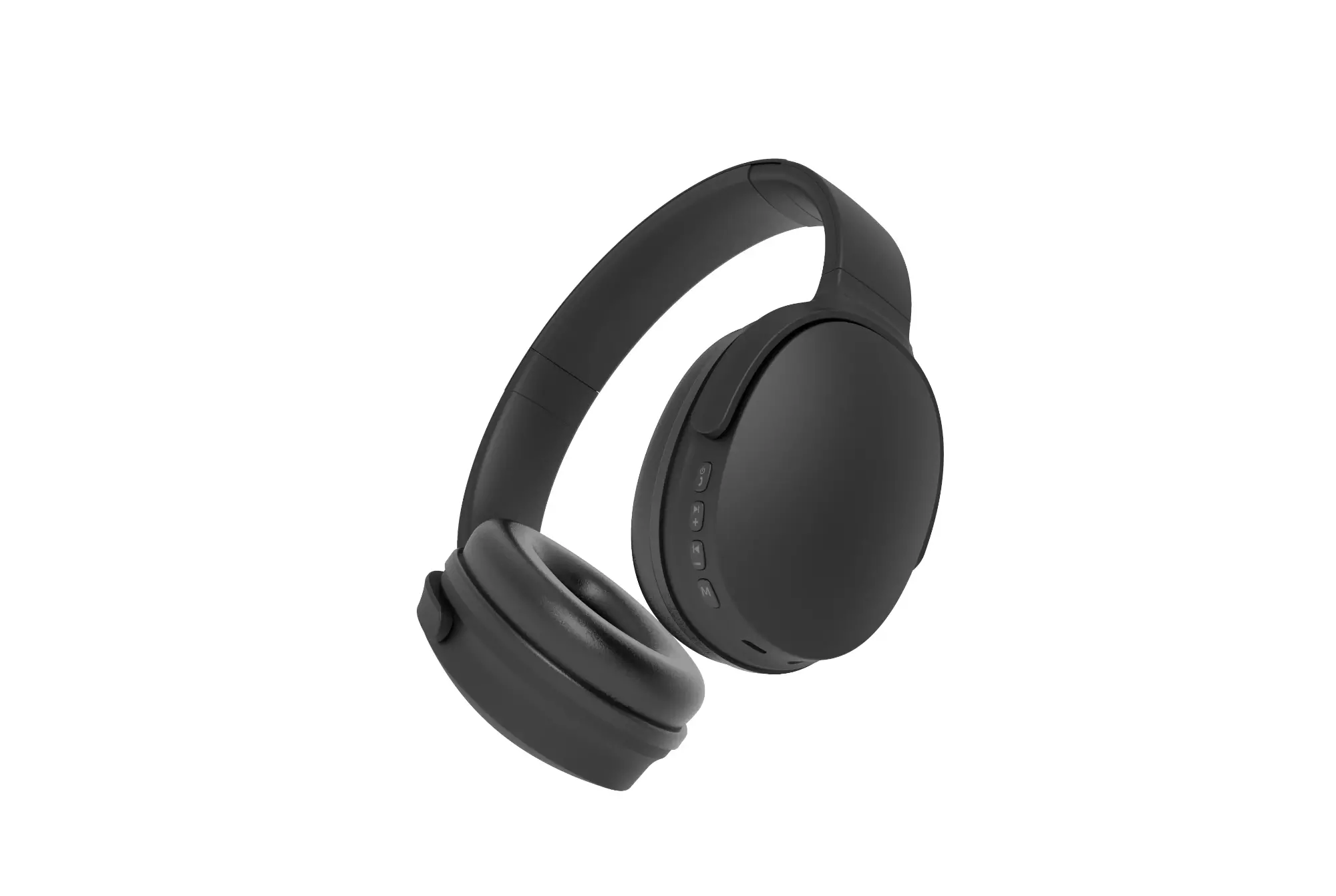 Using these headphones, you won't get distracted by ambient sounds, as your whole ears are covered. Besides blocking out external distractions, BL15 Bluetooth headphones don't put loud sounds so close to your eardrums, which is better for your ear health.
The BL15 Bluetooth headphones may not come from a popular company, but they are still one of the best-sounding headphones on the market. Besides the excellent build and sound quality, the gear uses Bluetooth 5.0 for connectivity, thus allowing hi-res audio playback. For 3.5mm jack fans, there's an aux cable option too. Using a 400mAh, the BL15 Bluetooth headphones can provide up to 13 hours of playback on a 2-hour charge.
Chapter 5: Advantages of wired headsets
Despite the new technology of the wireless headset, people still have a liking for the wired headset for the following reasons;
Good sound quality- Wired headsets use analog signals which means they can handle more data than digital signals like Bluetooth. This, therefore, means that your audio does not need to go through so much hence better sound quality.
Unlimited play timed- No external power source is needed for this type of headset which means that the audio signals themselves produce enough power to operate the headsets. You are good to go when you are plugged in at this point.
Less cost and easy to repair- Compared to the Bluetooth headset development and manufacturing, a wired headset is relatively less costly, much easier to repair, affordable, and readily reliable.
Chapter 6: Disadvantages of wired headsets
Can restrict movement- Wires restrict the range of motion of the user. Moreover, users have to limit their movements so that they don't interfere with the wires because it is tied to the audio source.
Untangling knotted wires- Wires can be a hassle and can take a lot of time when untangling and if not careful may be destroyed.
The headset wire could be fragile- Many times the wires are thin and frail and tugging them can damage the internal wirings and even cause short circuits. This causes malfunction of the device causing the headset to play on one ear and have static sound among other issues.
Compatibility- The universal standard length headset jack size which is 3.5mm has been for most modern audio for the year. With the new technology advancing daily brands are using different types of jacks and at other instances not at all meaning wireless devices. This is could be an issue of compatibility if the headset has one plug.
Chapter 7: Recommended Product for Wired Headset
The Sonun Children headphone wired with microphone are a godsend for your children especially if they are into the remote learning process. The built-in microphone feature makes it extremely easy to simultaneously tackle speaking and listening modes while keeping yourself organized. Furthermore, it's simply rotatable to fit any adjustment. To keep it safe for your child's hearing the device uses a sensitivity mark of 85dB.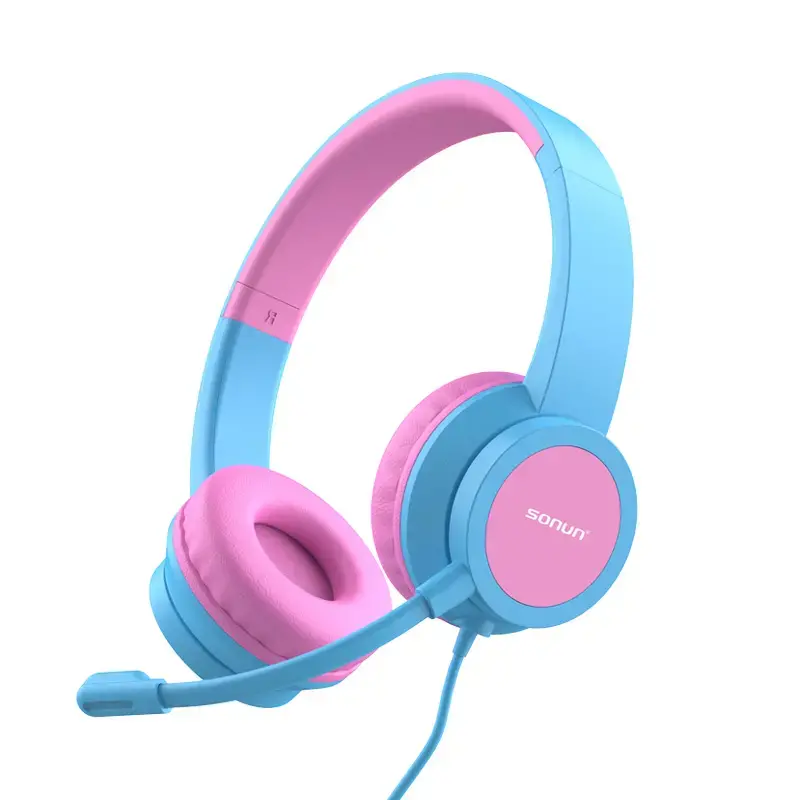 Playing with the psyche of the children, Sonun has designed these earphones in fun colors to attract your child towards their appropriate use without being annoyed. Another notable feature is its long 1.2m cable wire that lessens the feeling of being entangled to the gadget. Thanks to its flexible headband that can be stretched out as per your child's head size and comfort.
So, let your kids experience joyful learning with these super cool wired headphones. Its high performance is also perfect for gaming, listening to music, or watching a movie.
Chapter 8: Considerations for choosing a wired headset and a wireless
The price- the Bluetooth headset tends to have gained a lot of popularity and likes from people in recent times. However, the prices could be as expensive as four times the wired headset. A very good example is the Apple Bluetooth headset which makes a lot of sales. When it comes to choosing it would depend on one's purchase power.
Technology in use- the wireless is simple but contains a lot of technology. This makes it have a lot of use like for example to the gymnasts as it can be connected to devices that have apps that could even count the heartbeat and the distance ran among others.
Sound quality- when choosing between owning a Bluetooth headset and a wired headset, the one that is the best in terms of audio quality is the wired one.
Portability- in terms of portability the Bluetooth handset is the best as one can do anything while the headset is on the head. Unlike the wired devices which the wires have to be folded and the Bluetooth can be carried around easily.
The other key thing to consider is the compatibility– we are moving from the connectivity through a jack which has been 3.5mm from overtime to variable ones.
Therefore, one has to choose a handset that is compatible with what he or she wants to do with. The Bluetooth handset can be the best in terms of compatibility with a variety of devices which is a plus and an additional value for money to the owner.
Conclusion
When choosing which headsets sound better it would come down to an individual's preferences and social status. Trusted sources also play a big factor when deciding the type of headset to purchase. It is also advisable for one to do his or her research on what they want and the purpose it would serve. More so, being aware of counterfeit products in the market make one have value for money and what would serve them for a longer period to get the best product.